Poised to dominate the internet market, we are WorldFlix Entertainment.

There are billions of film fans in this world, and with the technology to make and distribute movies becoming more accessible every year, aspiring filmmakers continue to multiply in droves.

WorldFlix will unite this prodigious, international audience and the audience that will inevitably follow by creating a site that supports the demand for exceptional creativity – a singular place where cinema is ignited, produced, implemented and shared.

Imagine the best features of NetFlix, YouTube, Yahoo, MySpace, Facebook, Daily Variety, imdb, Withoutabox, Boxofficemojo, Flickster, Craigslist, and Amazon (to name a few), squeezed into one quintessential nucleus.

Now imagine this site being fully customizable to fit any filmmaker's needs and all die-hard film fans' desires. Imagine that and you have WorldFlix. Continue....



Plans to be Publicly Traded by Summer 2008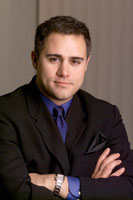 With offices in Palm Springs, Los Angeles, Switzerland,
and Mumbai, WorldFlix is
well poised to position itself as a publicly traded global leader in internet media-distributed entertainment

Prior to WorldFlix, Brad founded and successfully
ran one of the first online investment banks and
broker dealers.

His company, NetStreet Financial, specialized in private investments for accredited investors.

WORLDFLIX NEWS
"A Well Kept Secret: A Revolutionary Way to Distribute International DVD's Online. WorldFlix Introduces a Unique and Strategic Niche Market That's About to Explode. . . "

"Two A-List Feature Film Projects in Development: Allegra and the Untitled Glen Hagstaad Project. Brad Listermann's Take on the Momentum These Films Will Lend to WorldFlix Entertainment. . . "

"Film Market Buzz Begins! Actor Jason Lewis of My Bollywood Bride Now Slated to Co-Star in the Film Version of the Highly Rated TV Series, Sex and the City."

"It's Official. Beverly Hills Entertainment Attorneys, Warren Nemiroff and Jim Atchison of Cyrus and Cyrus, to Represent WorldFlix Entertainment"
WorldFlix Video Production
WorldFlix is a full-service production company that has an innovative program distributing films over the internet. The company is headed by seasoned professionals with over twenty years of combined experience in all facets of the entertainment industry.

WorldFlix focuses on films that reach a wide audience that first entertain and second have positive, constructive and social messages. In addition, WorldFlix consults and produces high caliber photo shoots, music videos and dynamic viral video marketing campaigns for products and services.

WorldFlix is in position to take audiences around the world by storm through our groundbreaking film industry web site, soon to be launched in summer of 2008.